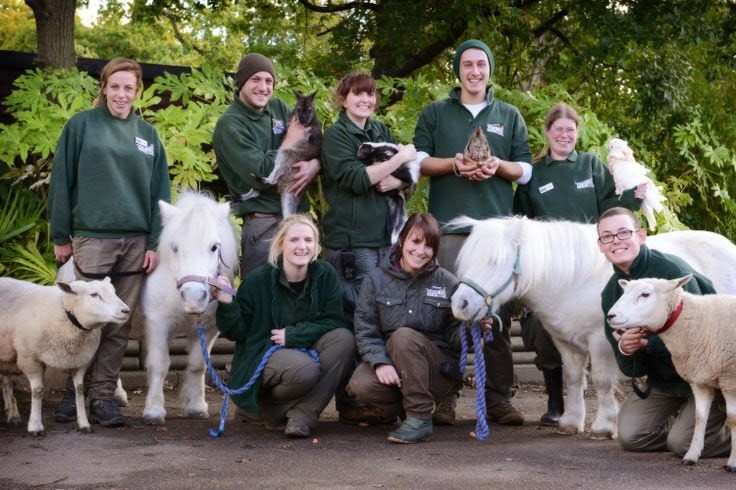 Do you enjoy being around animals and have the drive to make a difference? Well, have you ever considered becoming a zookeeper? Zoo keepers look after animals in zoos and safari parks, aquariums and sometimes in the wild. They work with all types of animals from goats and snakes, to big cats like White Lions, Snow Leopards and Tigers. Being a zoo keeper is an extremely rewarding job, yet it is very demanding, it isn't all about cuddling the cute animals and making friends with the Meerkats! Here at Paradise Wildlife Park we are often being asked "How do you become a zookeeper?", so today we are going to tell you just that!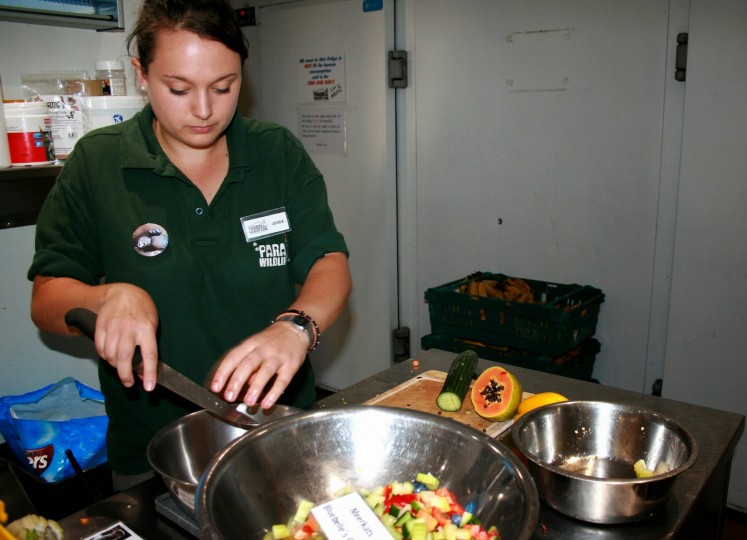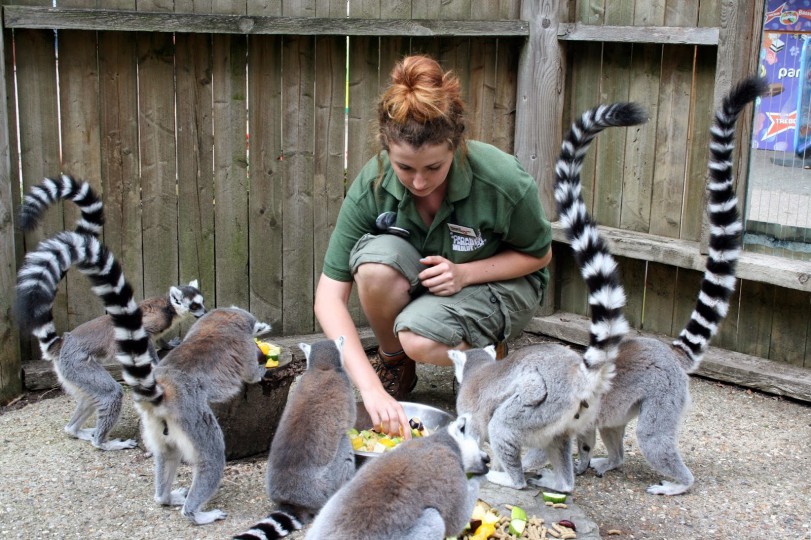 What do zookeepers do?
There are many tasks as a zookeeper:
Preparing food and cleaning animals
Helping to care for sick animals under the direction of a vet
Provide fresh bedding and food
Ensuring the animals exhibits are clean and safe
Monitoring conditions of enclosures, such as humidity and temperature
Checking for signs of distress, diseases, or injury
Answering visitors questions
Provide the public with educational and informative talks
Keeping daily healthcare records
Cleaning out cages
Train animals
*Disclaimer: You will get dirty!*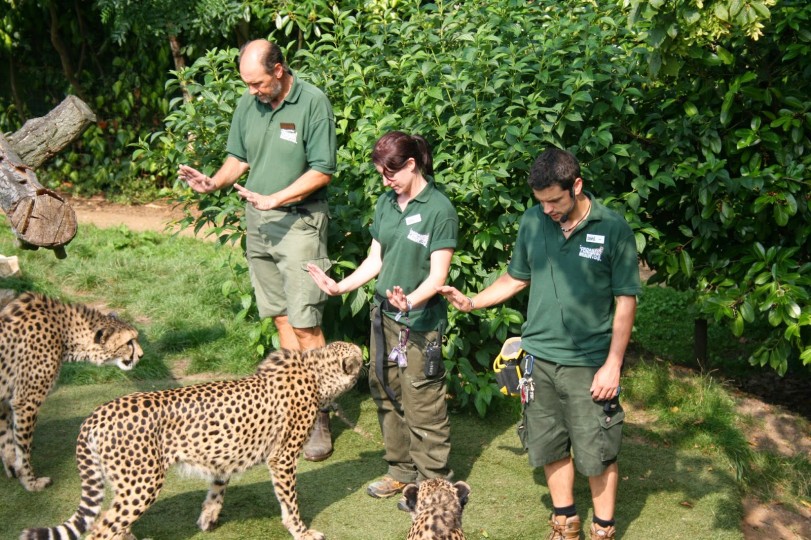 What skills and interests do I need to have?
Firstly, if you want to be a zookeeper, it is defiantly not the job for you if you are squeamish or work-shy. However, if you have any similar interests and skills to those below, it might just be the perfect career for you.
Patience and confidence when working with animals
Good observation skills
Passion for all things animals, including care, conservation and preservation
Good communication skills
Hard working
Awareness of health and safety
Able to remain calm in emergencies
Organised
Able to work as part of a team
Be reasonably fit and healthy
How many hours will I work?
Be prepared to work long hours and miss out on a few weekends and bank holidays, as animals require care 24/7. We're not saying you need to work 24 hours, 7 days a week, but you could work up to 49-56 hours a week.
Within a zoo you may work in a particular section, for instance you may work within the small mammals section, or reptile section etc.
PS. You must be prepared to work in all weather conditions, so get your waterproofs and SPF at the ready!
How much will I get paid?
Unless you are volunteering which is unpaid, the pay is very modest, salaries can start between £10,500 and £16,000 and senior keepers can earn from around £17,000 - £24,000 a year.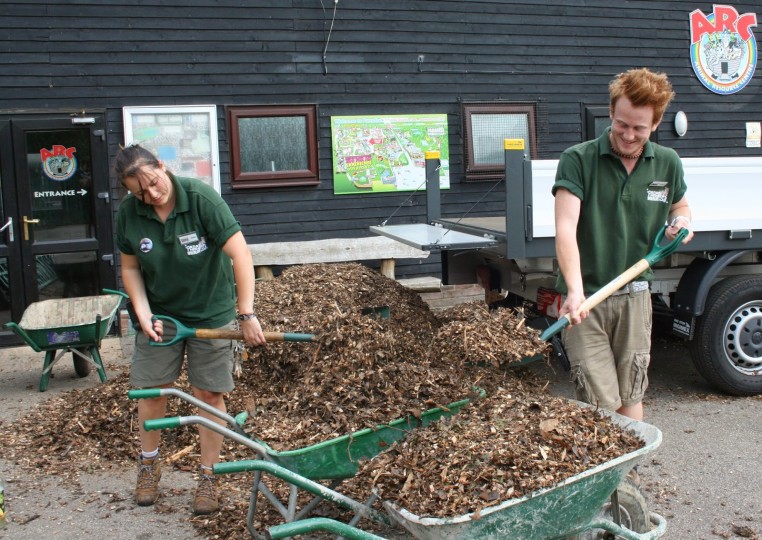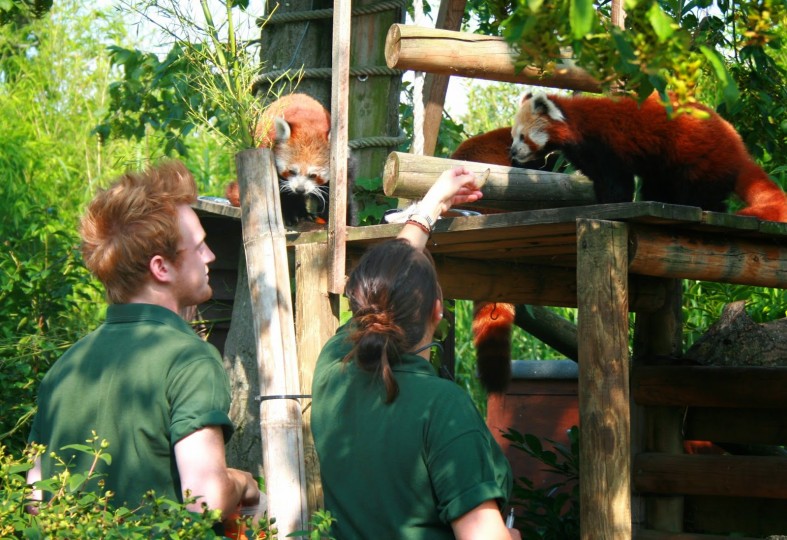 What qualifications do I need?
There is no official way to become a zookeeper and you may not need any specific qualifications to start work in a zoo, but the more education and experience with animals, the more beneficial this will be. Some employers may expect you to have GCSE (A-C) including English and Science as a subject. A BTEC qualification in Animal Science or Husbandry is also acceptable. Furthermore, a keen interest in animal conservation is essential and you will find that you will get to work with like-minded people, who are just as passionate about such subject areas as you are. Zookeeping is surprisingly a competitive field, so make sure you have a great CV and cover letter to stand out from the crowd. One way many many of our zookeepers here at Paradise Wildlife Park got work, was through volunteering. Many zoos and wildlife parks offer volunteering schemes. These schemes are a great way to gain valuable experience.
"You get a lot more hands on experience doing voluntary work. So working in the industry, even if it is voluntary it's good, like farm work and kennels, its all relative."
Steve, Section leader of Primates at Paradise Wildlife Park.
"Its the best job in the world. Study hard, if not do what I did and volunteer."
Steve.S, cover keeper at Paradise Wildlife Park
"Volunteer as much as possible, even through winter, stick it out and you'll get there. A good attitude is key."
Steve.S Paradise Wildlife Park.
There are so many places to gain experience with animals so don't dismiss your local pet shop! Just remember to be patient, a job as zoo keeper won't just land on your lap. You have to work for it.
To find out about volunteering opportunities See the British and Irish Association of Zoos and Aquariums website for contact details. Or find online at the Do-it website that has an easy search tool for all volunteering opportunities.
What will I gain from becoming a zookeeper?
Once you have got the job as a zookeeper, you will receive a lots of practical training whilst working. And if you don't already have a qualification related to zoo keeping, you may find your offered the chance to complete a qualification such as a diploma in animal management, or worked based animal care. There are other qualifications that you might want to consider too, such as a foundation degree in animal/zoo management. You can search for these courses online here. Once you have completed your foundation degree you could develop your knowledge further by taking a masters degree.
We asked some of our keepers what they have gained and enjoy about zookeeping:
"The most memorable moment for me, was when the Lemurs let me look after the babies in the nest for her and that was 9 years a go."
Steve, section leader of Primates.
"When Jasmine the baby Gibbon was born, that was pretty awesome."
Glen, Deputy section leader of Primates.
quot;Sloth's smell like an old blanket, the smell of him reminds me of a safty blanket like you get when you are young, or an old teddy bear. Its warm and musty, its comforting.quot;
Steve, section leader of Primates.
"Its hard work and dedication really to be honest, if you don't go to university start as a volunteer and work your way up the ladder. It's like any profession really, find something you love and just go for it."
Aaron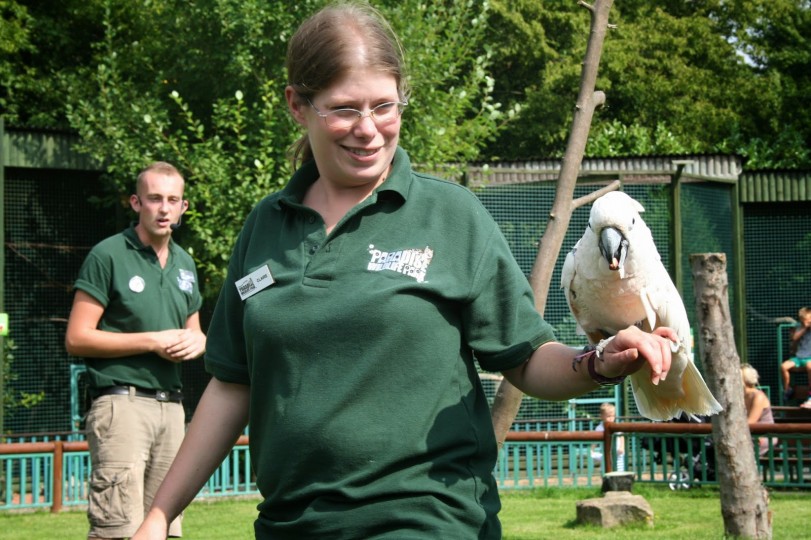 Still curious about becoming a zookeeper?
Well, here at Paradise Wildlife Park you to can become a zookeeper for the day. You can spend the whole day getting to know the animals by cleaning, preparing food, walking the animals and helping out at daily events all whilst working beside our experienced keepers.
Find out more about our zookeeper experiences here.
Do you have what it takes to become a zookeeper?
Let us know in the comment section below.