In Mid-September a team of staff from Paradise Wildlife Park and Wildlife Heritage Foundation were involved in the exciting and nerve racking process of moving two big cats.
Sisters Siberia and Alina were the two Amur tigers to be moved. Born only last year, they are already somewhat famous, having featured on the TV show, Nature's Newborns. The two girls were from an original litter of four, but sadly the runt of that litter didn't make it through the first 24 hours. However the three remaining female cubs survived and as pure-bred Amur's they will play a vital role in the breeding and reintroduction program. Only two of the three cubs would be coming to Paradise, and the decision over who it was to be was actually made by themselves. The two boldest cubs came into the house when called, and the cub that most heavily relied on her mother Ronja, was the one that stayed with her.
The move had been largely thought out, moving the two Tigers from Wildlife Heritage Foundation in Kent, to Paradise Wildlife Park in Hertfordshire. They were destined to share an enclosure with Paradise favourite, Rocky the hybrid tiger. Predominately cats aren't tranquilised for transporting, instead they are gradually trained to go into the movement crates of their own accord and travel fully awake. But in this case, it was necessary to perform some important health checks and vaccinations, so to keep the stress to a minimum for the animals, we combined all of the activities together. Follow the story through the photos and captions below...
There was a great deal to be done before the process could began. This was one of the crates used for the move. They are purposely small to reduce the free movement of the cats during transit to reduce the risk of injury.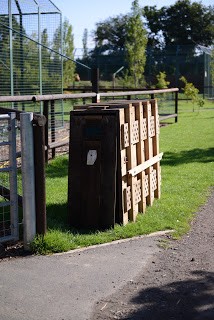 World renowned big cat expert and world leading authority on big cat medicine and conservation, Dr John Lewis preparing the anaesthetics and paperwork ready for the move. John is a member of the IUCN SSC Cat Specialist Group, veterinary advisor to the Amur leopard and tiger Endangered Species Breeding Programme (EEP), a range of felid and primate field conservation programmes, a trustee of the UK based charity AMUR and is widely published on veterinary aspects of non-domestic medicine.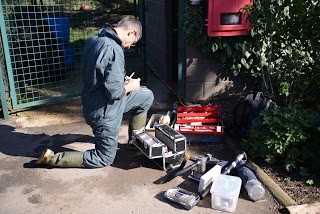 In order to keep the stress minimal. John asked us to stay outside for the first procedure with Alina as her sister Siberia was in the adjacent enclosure. Here you can see Alina being carried out first having had all her checks completed.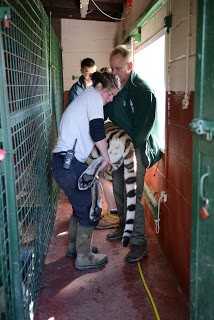 John and Zoo keeper Aaron Whitnall from Paradise Wildlife Park check on Alina as she is carefully placed into her crate.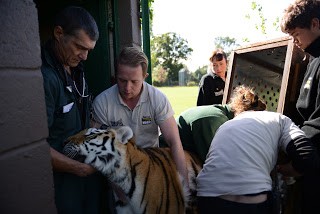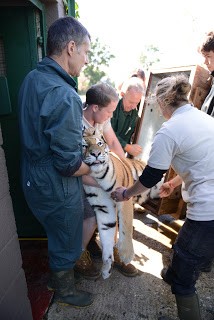 Alina is safely into the crate, the team keeps a close eye on her breathing.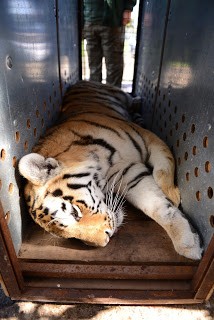 To make identifying the two new Tigers easier for our keepers at Paradise Wildlife Park, photos of their faces are used to show their unique eyebrow markings and distinguish them apart.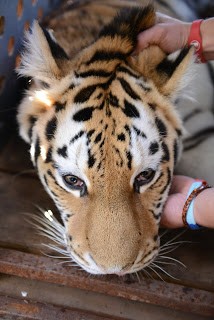 John administers the stimulant to bring Alina out of the anaesthetic.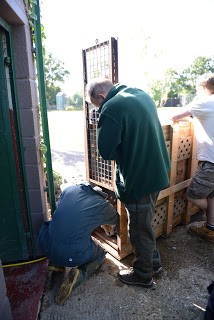 The team were stationed around to keep a close eye on her breathing and track her progress. There was a terrifying moment when she appeared to have stopped breathing. But she soon started again. It's common for cats to hold their breath when wakening from a sedative. But John wasn't taking any chances. In the event that she had stopped breathing, a tube would have been inserted into her nostril and she would have been helped along in a similar way to a person.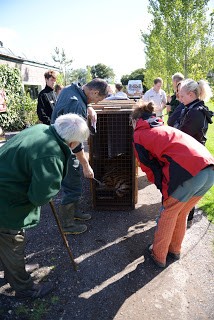 Alina came around with ease and the outer case for the crate was put in place.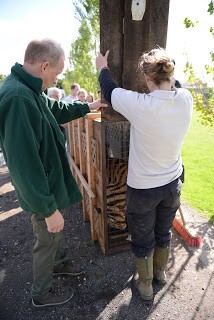 She was then carried to the van where it was dark and quiet.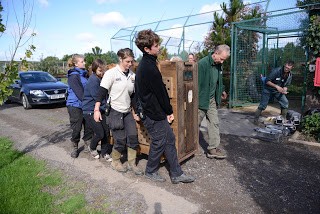 As you can see she's not light so it takes a whole team of people to move her carefully to the van.
Then it was Siberia's turn, she could tell something was up, however she remained calm throughout.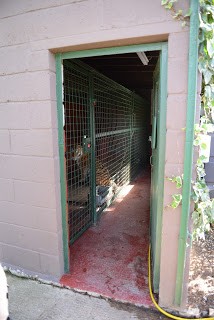 John calmly and quietly walked in with the dart gun, hiding it behind his back so as not to cause distress to Siberia.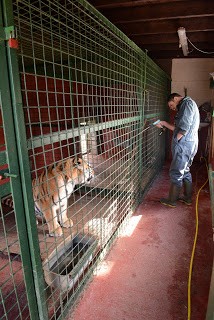 It took just a few minutes for the sedatives to take effect.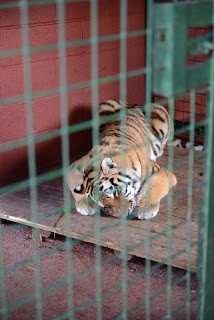 As soon as it was safe to do so John began the examination on Siberia.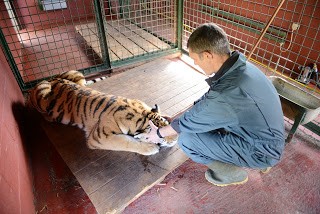 Becky from the Wildlife Heritage Foundation checks Siberia's microchip against her records.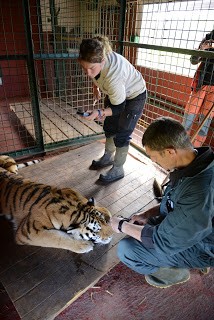 John takes a photo of Siberia's eyebrow markings to compare with Alina's.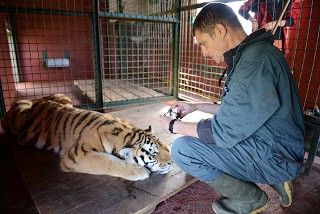 Checking for any dental problems.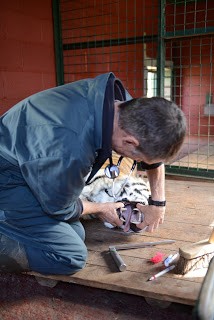 John checks Siberia for any heart mumours using a stethoscope, this is a common problem with Amur tigers.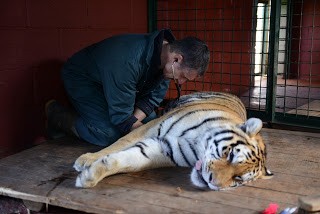 Checking her claws and pads.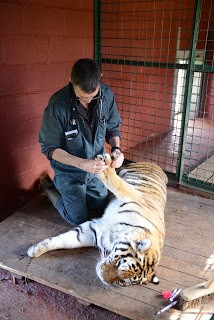 Amazingly John is able to perform an ECG on Siberia using an iPhone. Can you believe there is an app for that? Wow!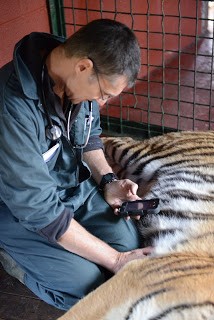 After the examination, Siberia is lifted into her crate.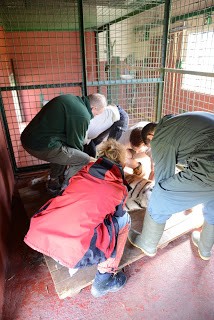 John answered some questions for the students and volunteers who were present.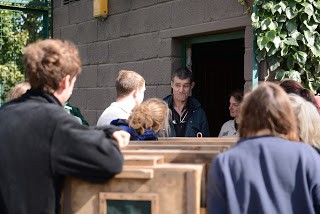 Tightly wedged in, the crates are unable to move during transit.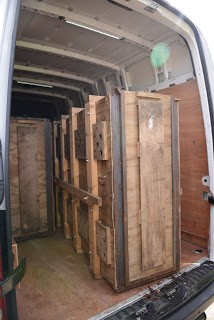 We arrive back Paradise Wildlife Park in the pouring rain. The Keepers and Zoo staff help unload the girls.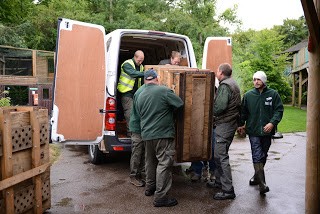 The crate is then safely put up against the entrance to their new house.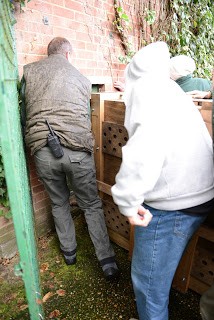 It's then a waiting game for the Tigers to get enough confidence to leave the crate on their own.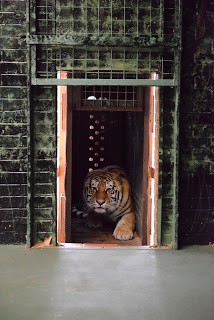 Finally out of the crate, Siberia settled down quickly.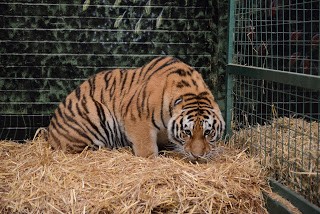 And that was it, the end of a very tiring day and successful day for all the team member and the Tigers.
The girls are currently settling into their new environment. Rocky isn't sure about them just yet. But he'll no doubt get used to them soon enough. They'll be apart for at least 30 days before a gradual introduction process is begun. We will keep you posted on the developments!
**UPDATE
Rocky and the girls have been introduced! And they're getting on brilliantly. As you can see from the photo below!