John Lewis has been a full-time zoo and wildlife vet for the past 27 years, working in a variety of zoo and field situations in an equally wide variety of countries. He is a partner in the International Zoo Veterinary Group and a co-founder of the UK charity Wildlife VetsInternational, which provides specialist veterinary services to conservation projects. John's particular interests are the conservation of the larger cat species and anaesthesia of non-domestic animals.
John who has been an associate and friend to Paradise for a number of years really knows his stuff. Our zoo keeper team trusts him with all veterinary procedures no matter how big or small. Being such a highly regarded veterinary surgeon not just in this country but internationally means John is a very busy man. This occasionally means that when he is available to visit Paradise he has a very long list of jobs. This was most definitely the case when I spent the day shadowing him yesterday...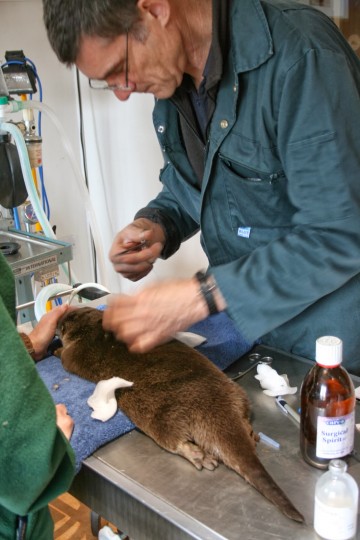 First on John's list was three female otters that were due to have an implant put in to prevent them from breeding in the future. But before they could be brought in the keepers had to distinguish which female otters they needed and then the hardest part would be to catch them safely. Otters may be very cute in their appearance, but they can be very feisty animals, with sharp teeth for tearing apart and eating fish. Also with speed on their side and the ability to swim under water making finding and catching them very difficult. Each otter was brought in one at a time and placed on anesthetic to send it to sleep; this allowed John to quickly and easily follow out the procedure, whilst also doing a quick health check of their teeth, skin and weight etc.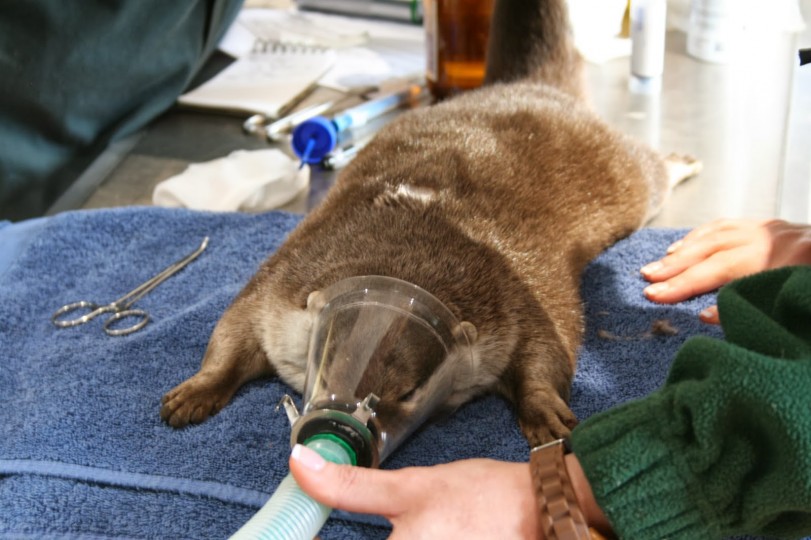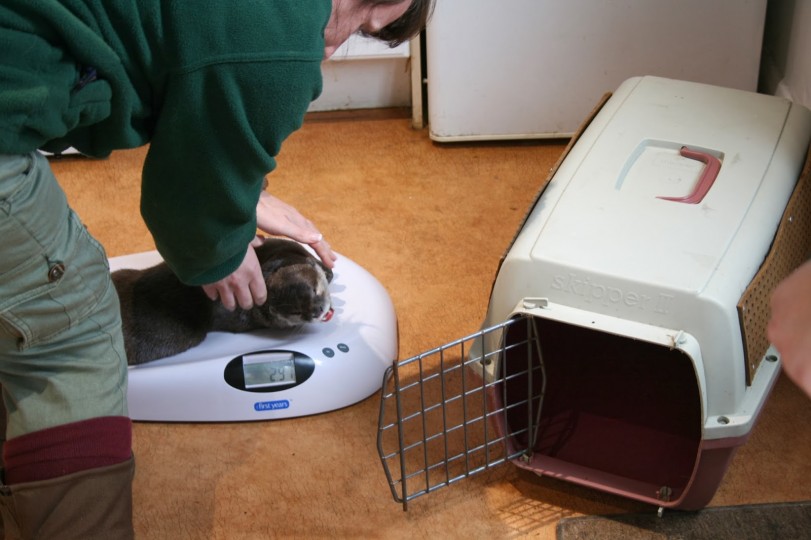 Next to visit John was Bobby our Moloccan Cockatoo who is a favourite with many of our guests for his talkative nature. Unfortunately, despite Bobby's cheerful and chatty behaviour he can't seem to maintain his weight. Our keepers have tried upping his food, moving him into a larger enclosure and giving him company from a fellow bird. He seems more than happy but still isn't gaining weight. John the vet decided that the best option would be to place Bobby on gas to take a blood sample and to give Bobby a health check. We will have to wait a couple of weeks to see if the blood sample gives us any feedback. But for now, John concluded that Bobby looks healthy and is fine.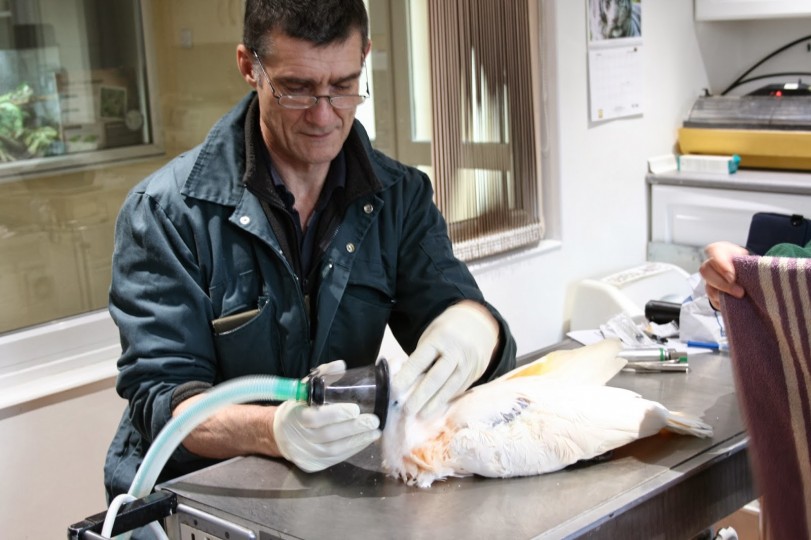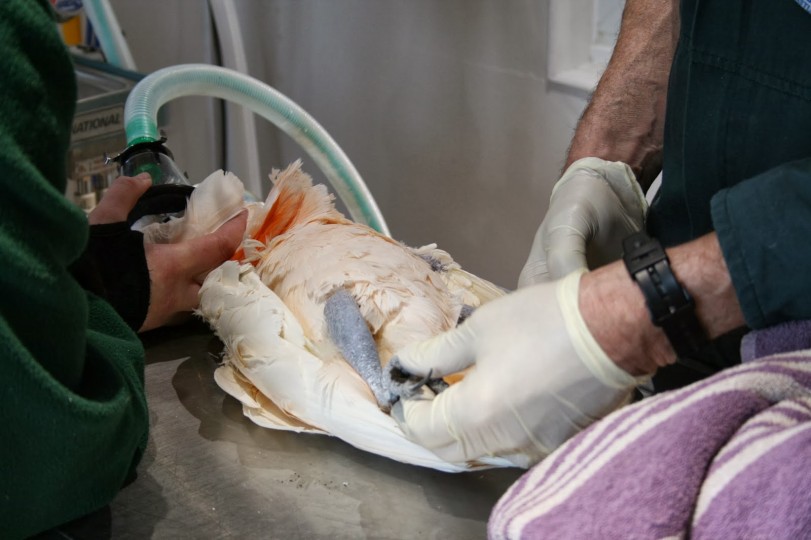 One of our camels has been suffering with an unknown skin condition for some time now, causing her mild discomfort. It was time for John to take a look. The keepers have tried a variety of medicines, special shampoos and camel friendly moisturisers but nothing has worked so far. John decided that a skin biopsy and blood samples would be needed to determine what was wrong. With larger or more dangerous animals it is necessary to dart them with anaesthetic. This is to send them to sleep whilst the vet does his work. The keepers were asked by John to place a dark towel over the camel's eyes so she remained calm throughout the veterinary procedure. The skin and blood samples taken from the camel will be sent off for assessment, but for now John suspects it could be mites that are irritating her skin.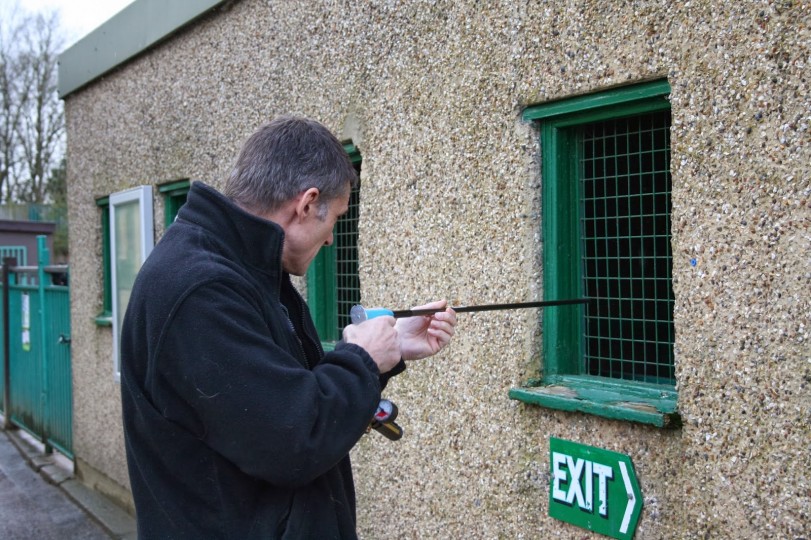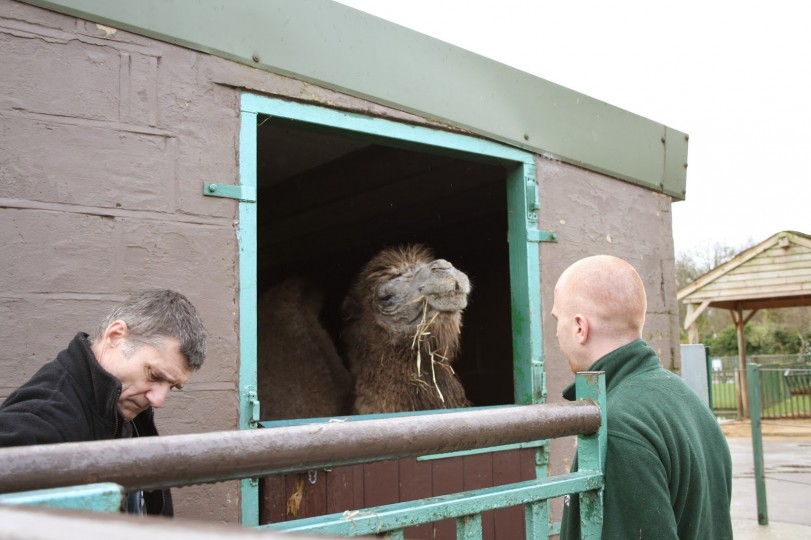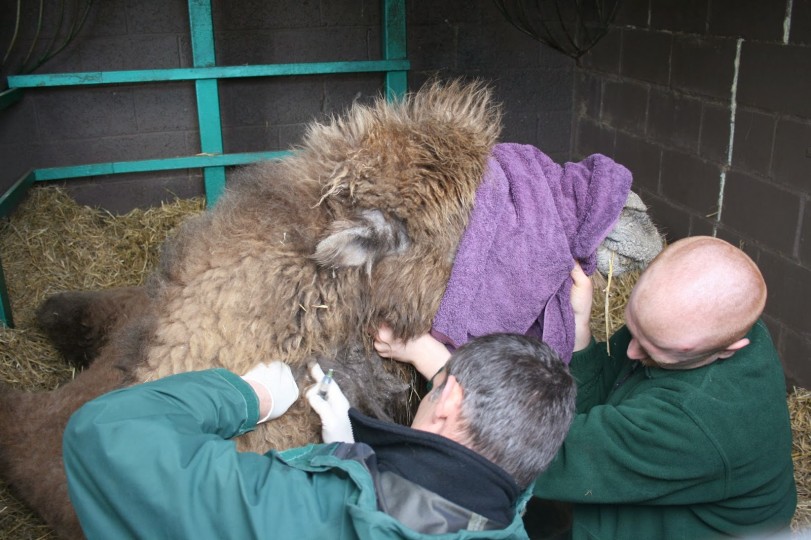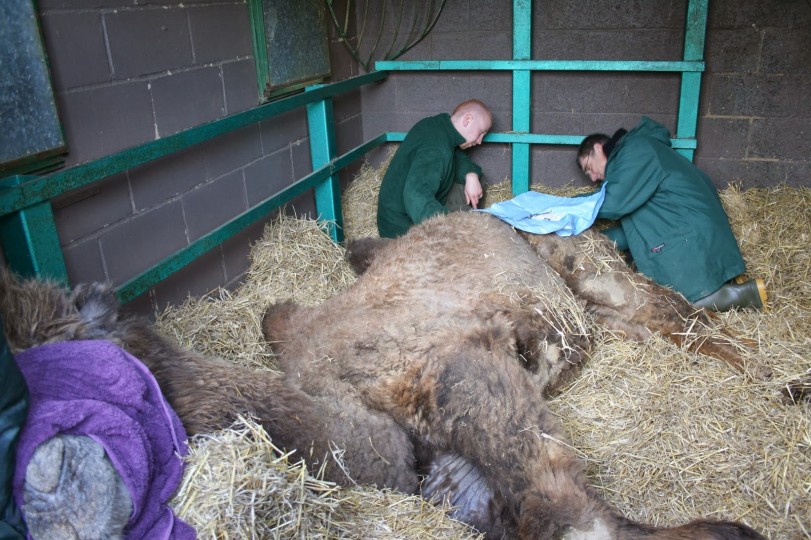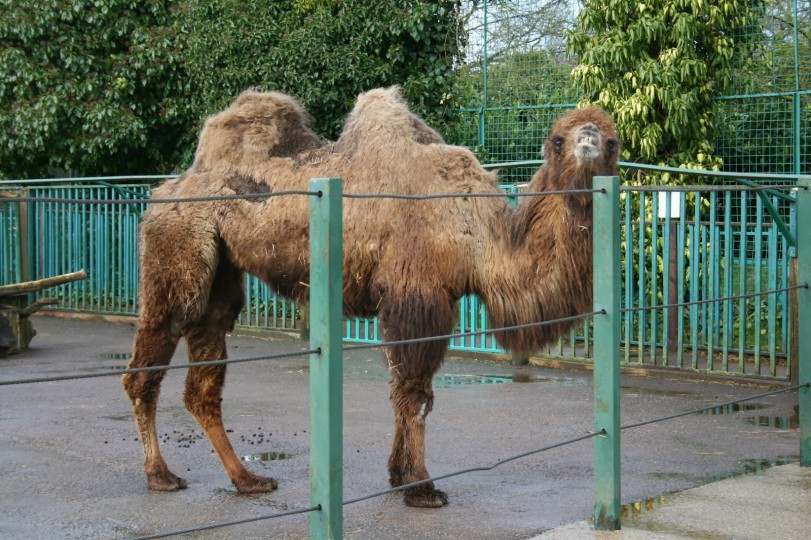 After a quick break for coffee and lunch, John and the team of keepers headed over to the woodland area where three of our wolf siblings are housed. The male wolf, Romulus, was to have a vasectomy as the keepers do not want him to breed with his two female siblings. This veterinary operation has to take place in our sterile vet room and therefore it was necessary to move the young male wolf from one side of the park to the other in order for John to operate. As with our camel, a dart was required to send the wolf to sleep whilst moving and operating. Once the wolf was in the vet room John proceded with the vasectomy, explaining what he was doing as he went through. The young male is now back in his enclosure recovering well from his operation.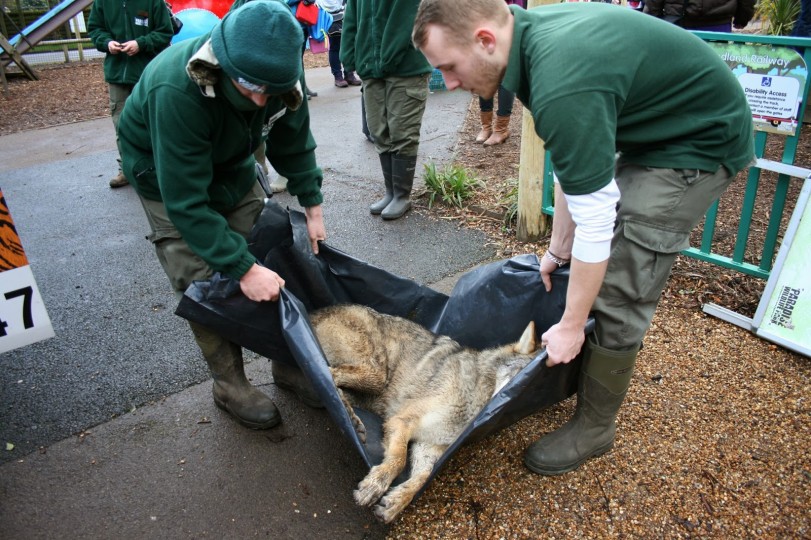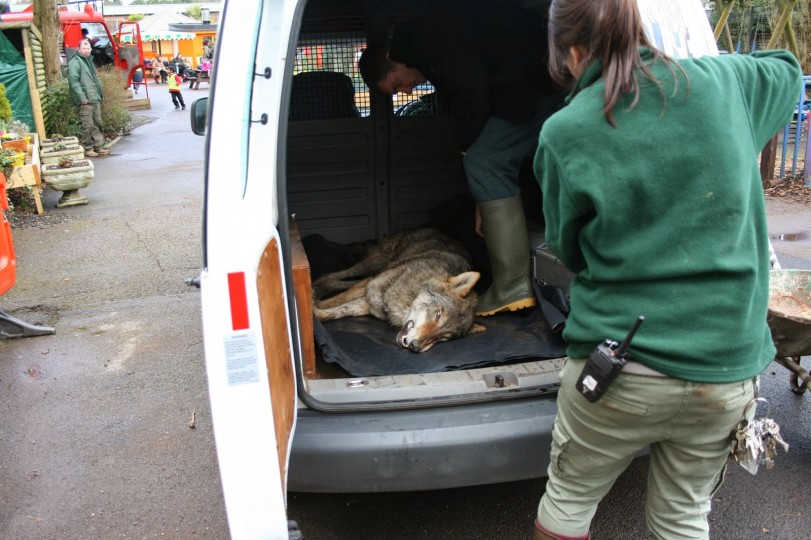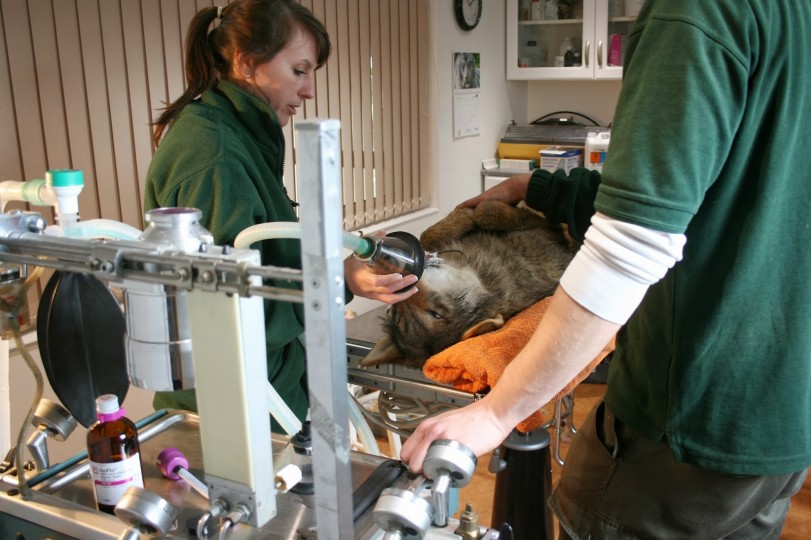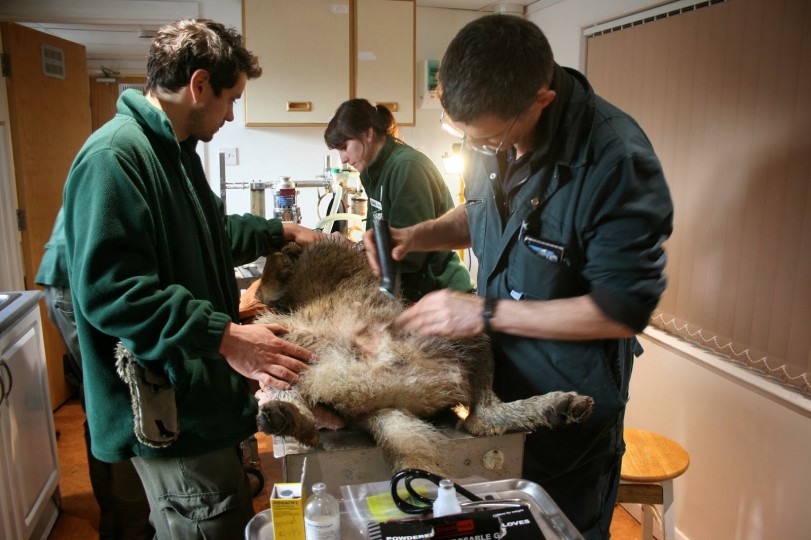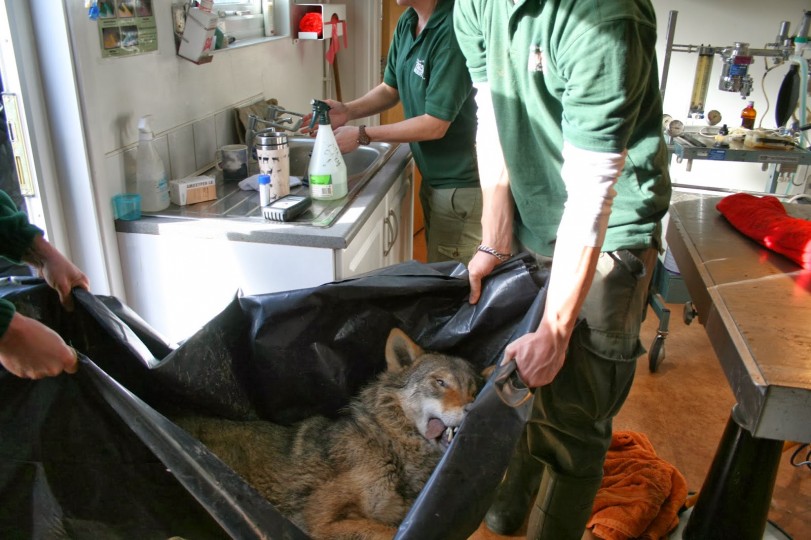 John's final job of the day was with one of our White lionesses. She required an injection and an implant. After checking her records John was happy to follow through with the procedure. Since she is a large and dangerous animal, a dart was required. Luckily John had a good aim with the dart and it wasn't long before she was asleep. John was able to carry out this particular procedure in her enclosure without the need to move her to the vet room. To keep stress to a minimum for the pride, she was separated and out of sight from them. Finally John finished off with a quick health check on the lioness and then we waited for her to come back around (outside of the enclosure of course!) and then we left her to it to recover in peace.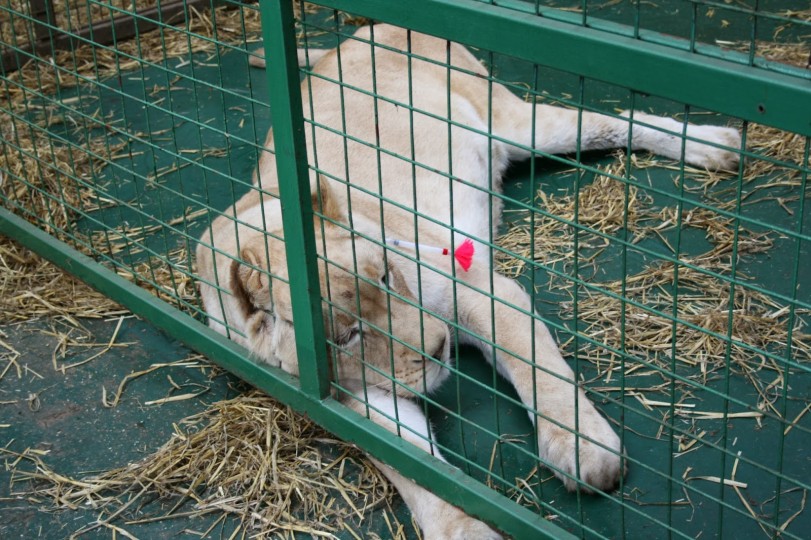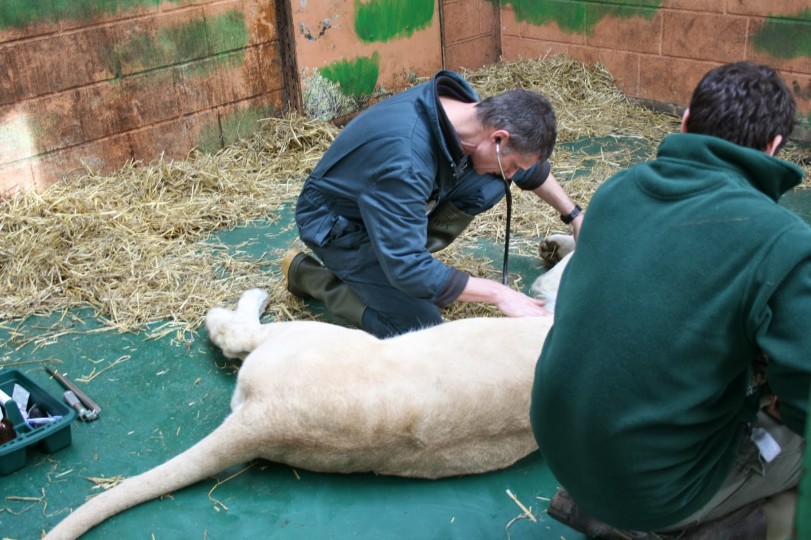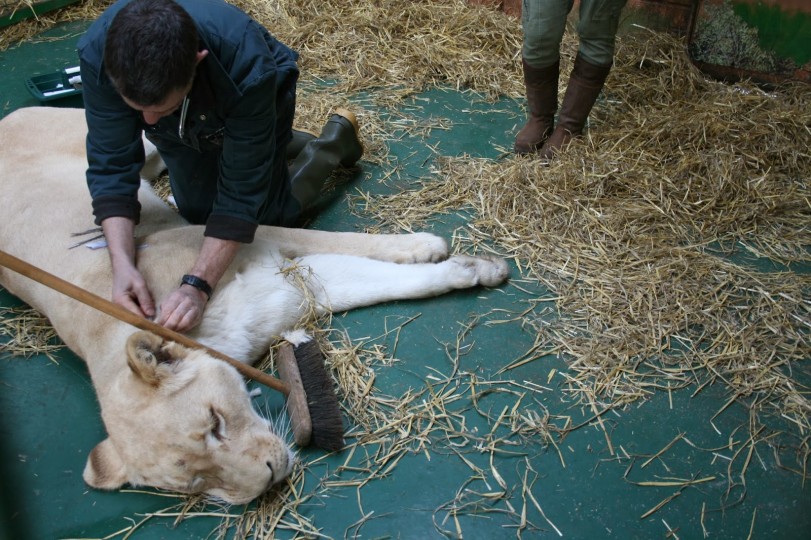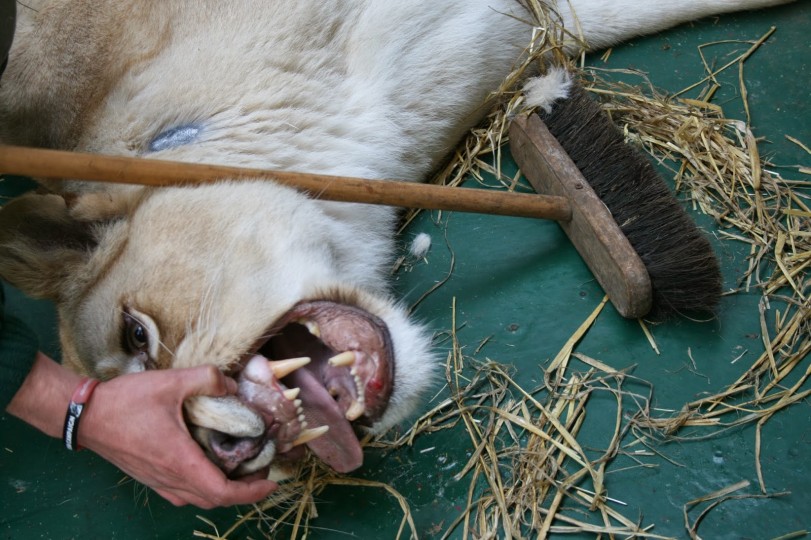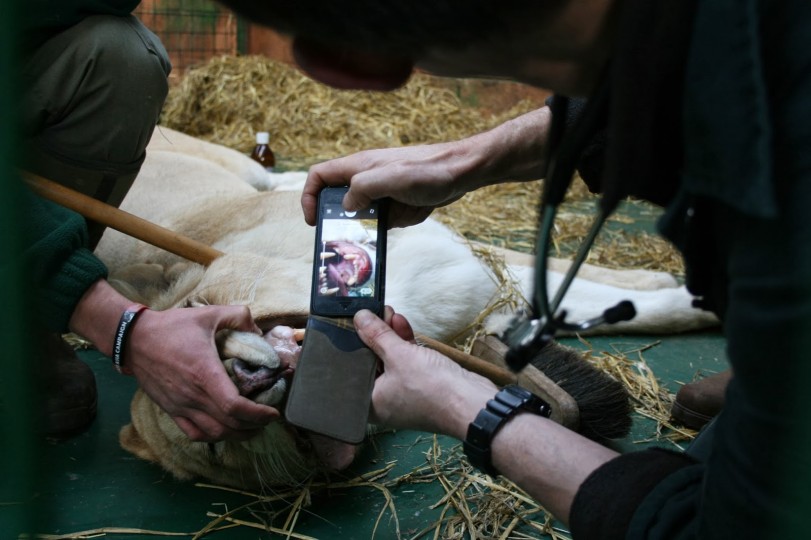 Well, we hope that gives you an interesting insight to some of the vet work that happens at Paradise Wildlife Park. Stay tuned by registering your email address in the subscribe box for more interesting news and information from Paradise's Zoo News!