Corporate Events At The Zoo!
Step away from the traditional corporate event venues and swap it for a unique and fun alternative.
Impress your clients by holding your corporate events at the zoo! Ideal for meetings, conferences, dinners, product launches, parties, team building and away days.
With a choice of stylish, fully equipped venues and complimentary Wi-Fi throughout, Paradise caters for conference parties of up to 300 guests.
For more information see this guide:
---
CORPORATE SPECIALS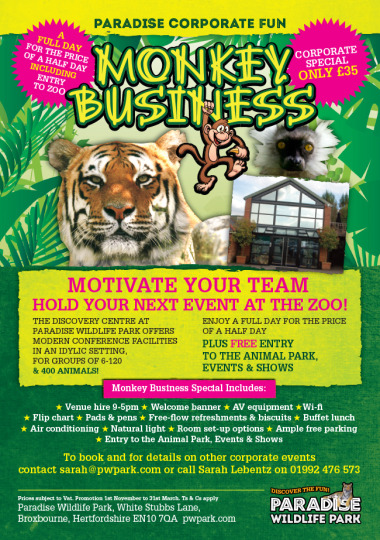 ---
TESTIMONIALS: Meetings, Conferences & Team Days
Thank you for organising our conference at Paradise Wildlife Park. The facilities were very flexible, allowing us to hold presentations and break out discussion meetings in your syndicate rooms. The atmosphere was relaxed and the feedback has been very positive.

Andy Newman. Sales Director

BT

My regional conference was very successful last week. The managers have been buzzing about it and have commented on your generosity and that of your team. We were really well looked after from start to finish.

Mark Whitty. Regional Manager

Cineworld

A "Big Thank You" for yesterday. Everything went really well, everybody was so helpful and so very, very nice. We have supported days at the London Zoo which were good but I found Paradise Wildlife Park even better. It felt very intimate, family orientated and the staff were excellent.

I will definitely recommend you to others in Tesco and outside of the office.

Lynne Christiansen PA to IT Directors

Tesco

Staff wellbeing day. A great afternoon. Well organised. Friendly, welcoming staff. Our team very much enjoyed their experience.

Rob Fuller

Edwinstree Middle School

Thank you for arranging our team meeting. The Discovery Centre was great and the facilities perfect. We found it really useful to wander around the animal park and relax – this definitely helped stimulate ideas.

Lucy Flynn. Events Manager

Volkswagen

Just wanted to say thank you so much to you and your team. Our event ran very smoothly and was a great success.

Alexandra Lee. Customer Development

Mars

Thank you for hosting our annual information exchange event with over 50 partners. As always we couldn't fault the facilities, the organization and standard of service or the friendly and efficient staff. We are looking forward to our next event at the Park.

Head of Tourism

Herts Tourism Partnership

I would like to take this opportunity to send a big thank you to everyone in making our team away day a great experience. Everyone had a great time and have been making the rest of the organisation jealous with their stories.

Lee Nicol, Resource Officer

Peter Bedford Housing Assoc

A wonderful, well located venue, creating a very different atmosphere for delegates, enabling them relax, be inspired and become more creative during the event. The sight of a large Bengal Tiger through the window brought a smile to everyone. Tiger Tree Tops is a fantastic setting for our seminar, with state of the art facilities and catering. The organisation was first class and nothing too much trouble. It feels good to know that by using these facilities our money is going to an excellent cause. Delighted to recommend you.

Steve Cottle

Partnership Assurance

Thank you so much. Everything was very well organised and I have had so much great feedback from the team. Everyone really enjoyed themselves. Thanks again for a fantastic day.

Roz Purdy

Ocado

To provide our top partners with a unique Christmas gift, we ran an integrated campaign utilising animal adoption packs, animal experiences, big cat "zoo-keeper for a day" and a day at the Park. The conference facilities were excellent and partners were treated to animal experiences including hand feeding their lion – which really sets Paradise apart from the rest!

We were extremely impressed with the co-ordination, organisation and facilities.

Our guests all had a great time and campaign was a great success.

Sian Easton

Wick Hill

Many thanks for arranging such a wonderful day at short notice. Your staff that made us feel so welcome and nothing we asked was any trouble. We got some good photos of everyone with the animals and Tony handling a tarantula much to his dismay! Also thank you for the passes which were another lovely surprise. Thanks again for such a memorable time.

Michelle Lennox

Barclays Corporate

Thank you Sarah for the excellent service provided by you and your staff during the Managing Safety course we ran at the Park.

David Whitelegg, Environment, Health & Safety Consultancy

Triquetra

Thank you SO SO much. We had a fantastic day and it was a real treat to get the whole family together for the special birthday celebration. I'm so grateful for all your help and it was lovely meet you. We will definitely be back, hopefully as an annual family outing.

Lou Clayson