Team Building activities
Supporting Conservation at Home and Around the World
What better way to motivate and stimulate your team than to complete team building activities surrounded by some of the most beautiful animlas on the planet?
We have developed a range of, all year round, fun-filled team builds to suit all tastes and tailored to meet your objectives.
Your day includes:
*Choice of activity *Entry to the Park *Refreshments & lunch *VIP Meet & Greet the animals
*A glass of bubbly *Certificates for all
Plus: Staff benefits for a full year with 50% off Admission and 25% off Animal Experiences
Bring your team closer together by bonding on a memorable fun day out at the zoo and book your team building experience today.
Select your preferred option:
New for 2017
Paradise have teamed up with Vertigo Adventures for a "fabzoolus" two centre team build for the adventurous: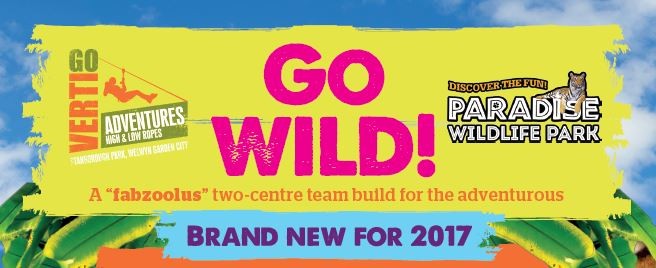 1. Animal Enrichment - Creating toys to stimulate the animals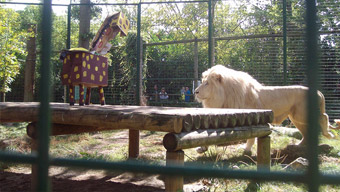 2. Animal Challenge - An assortment of mental and physical team challenges
Watch our Sports Day Team Build Video

3. Enclosure Makeovers - Home improvements, creating a new look environment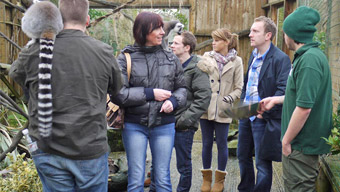 See full details of the above options in the downloadable brochure and video below.
Team Building brochure
Watch Our Corporate Team Building Video

And our 2 Part Team Builds:
4. Carnivore to Culinary – a crazy mix of animals cookery fun - Carnivore to Culinary
5. King of the Swingers – combining animal fun and golf swingers (for non-golfers too!)King of the Swingers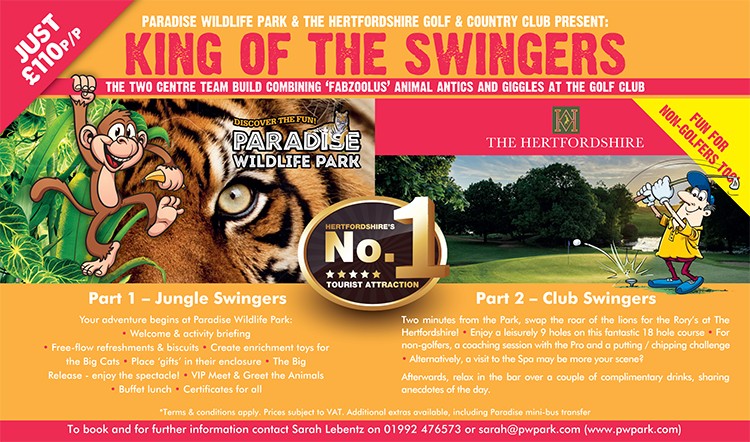 Animals & Adventures - Half day of animal fun, followed by your choice of... Overview

6. Around The World GPS Treasure Hunt: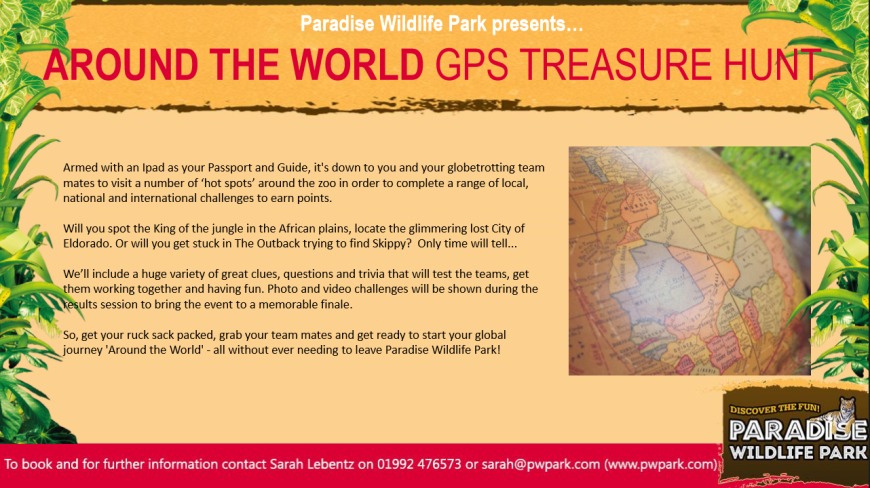 7. CSI The Killing:

8. Fort Paradise-Clues at the Zoo:

9. Ipad Movie Making Experience: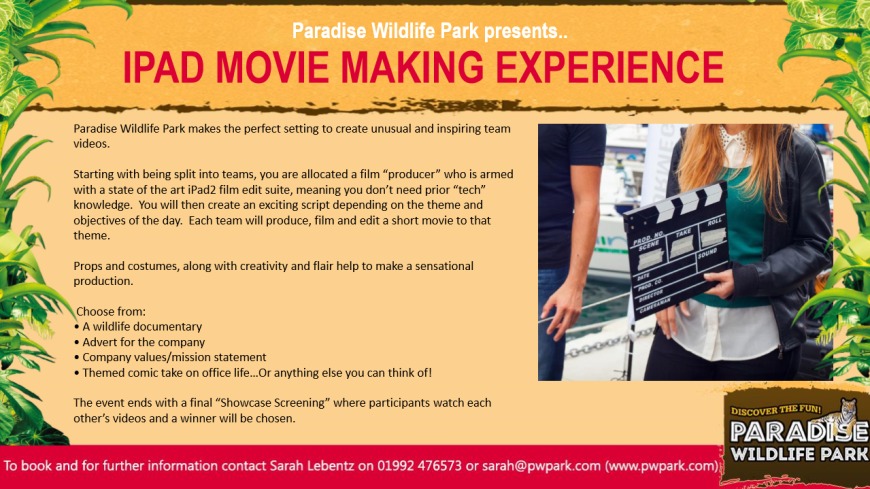 More Roar – the Team Day to supercharge the impact, confidence and communication powers of your people, in the unique environment of Paradise Wildlife Park.
With inspiring speakers; Nicci Roscoe and Michael Dodd.
Download the More Roar leaftlet below
Terms and Conditions
For more details of the venues available for hire for corporate events contact Sarah on 01992 470 490 ext. 231 or email her at sarah@pwpark.com
---
Testimonials - Team Builds
The biggest thank you for all your wonderful hospitality. From the minibus and the banner that greeted us and the organisation with every detail covered - we felt like real VIPs.

The icing on the cake was the animal tour and feeding of the lions. We had no idea that this was planned and it will remain in our memories for years to come.

Jill Locke - Head of Sales Development

Royal Mail

I just wanted to write to thank you for organising the best away day for us. We all had different expectations of what the day had in store but no-one expected the efforts you all would go to, to make the day as welcoming, informative and exciting as you did, so thank you again. We will certainly remember the experience for a long time. Please pass our thanks to the keepers, for a fantastic interactive tour and for making the day so extra special for us.

Zoe Richards Quality Assurance

McDonald's Restaurants

We have again received great feedback from our client. They commended your hospitality and your team for attending to their every need. It is a pleasure to work with an organization like Paradise that cares about its guests to such a high level.

Danielle Green-Robinson - Director of Sales

Marriott Hotels

I wanted to say how much I appreciated the support, organisation and assistance of you and your team during the preparation and delivery of our client event. With your invaluable help we succeeded in delivering a thoroughly enjoyable and successful event.

Paradise Wildlife Park was an ideal location for the activity we delivered and, should we operate one in the area again, we would love to come back. Thank you again.

Glenn Pollard - Project Manager

Bluehat UK Ltd

We had a unique and magical experience at Paradise. We received an extremely warm and very friendly welcome from the staff and experienced some very exciting, memorable moments interacting with an amazing array of animals. On behalf of myself and my team I just wanted to say a big thanks to you and all the staff at Paradise for making our event a Roaring success. We will be seeing you again very soon!

Pauline Gibson - Filmology

P&MM Ltd

Thank you so much for your assistance in our Team building Event. Everything went so smoothly – it made my job so much easier. The group loved the Park and had a fantastic time. Thank you all for your professionalism, knowledge and a thoroughly enjoyable day.

Carmel Maguire – PA to IT Directors

Tesco Stores Ltd

Thank you so much for our team event. Your organisation and style was fantastic. You managed to make sure that even cynical 'not animal people' were converted into having a great day. It was a great way to 'bond' and escape the day jobs. Hope to be back soon.

Helen Eyre – People & Organisational Development Manager

Computacenter (UK) Ltd

Everyone had a really super day and we would all like to pass on our heartfelt thanks to you and your team for organising such a fantastic day for us. It really was super and, in particular, everyone has spoken about the tiger target training and how incredible it was to see. We really appreciate you adding this surprise to the itinerary.

Keely Bosati – Development Manager

Dixons Retail

The day was very well organised and the activities arranged were fun, educational and entertaining. The staff were very professional, friendly and knowledgeable

Great first impression. Warm, friendly greeting. Park was clean and tidy with a fantastic collection of animals, all obviously happy and well cared for. Great place for a team building event.

Gill Petford

Home Group

Thank you for allowing us to use your facilities for our annual Away Day. The staff were friendly and helpful and nothing was too much trouble. The keepers were very knowledgeable and happy to pose for photos with us and the cute critters.

Highly recommend Paradise Wildlife Park for team building events, meetings and away days.

Tanya Wade

Skanska UK

Evening VIP tour and BBQ. Everyone had a brilliant time. The tour was great, the food was lovely and the staff were all really nice.

Hazel Sleight

GSK

Thank you to you and the team for a fantastic day. We all got a lot from it and it really helped to showcase the Park ahead of our big event there this summer. The keepers were wonderful and patient and the food fab – and you did a fantastic job looking after us!

Helen Wills – Leisure Benefits Manager

John Lewis Partnership

I would like to thank you and your staff for a wonderful day and the feedback from other members was that they had a great time.

The Keepers were very knowledgeable and did a good job keeping us entertained; please thank them for doing a brilliant job. I would certainly recommend this experience to others.

Edward Hanson

EJH Microbiology

We would like to say a big thank you to everyone at Paradise Wildlife Park for making our day so enjoyable and special yesterday. Everyone enjoyed themselves and we will definitely be passing your details on to other teams within PRUPIM.

Lisa White, Secretary

PRUPIM

Everyone had a great time and really enjoyed the park. I'm sure they will return with their own families. We will certainly keep you in mind for our next team build.

Jane Haywood, Marketing Manager

CitySync

We thoroughly enjoyed the day. It was magical to say the least and I for one will be back with friends. Also, I will pass on your details etc. to our people here for sure.

Dave J. W. Williams

Kellogg Brown and Root Ltd (KBR)

Thank you so much for organising such a wonderful surprise. Natasha had a truly wonderful birthday and doesn't stop talking about it. She loved the baby meerkats, although I think it was topped by the experience of hand feeding the snow leopards. Your facilities were truly magnificent and I will see what business I can put your way.


Mark Jerram, MD Europe

RTC

We laughed all day and enjoyed all the activities. The enrichment for the lions was brilliant and so much fun to be a part of. Everyone was buzzing about the day and the certificates were another nice touch. A huge thank you to you all.

Katie Mans

Plumpton College

Having gone to other Zoo's for team builds this is far the best day we have had. It is better organised, with better facilities and the feeling of personalisation. We were made to feel very special by Sarah and the team, making the day a great success.

Colleagues said it was an inspiring day and they enjoyed getting up close to the animals. The keepers were great and freely shared their knowledge of the park and animals, saying 'It's like being part of a family working here'. A credit the park and the owners. I will certainly book another team build. Thank you to Sarah and the Team. Nicola Bridge

Tesco

We wanted a team building event for a senior group within our Finance department that was not only fun but had some focus for us in terms of outcomes.

I cannot praise Paradise Wildlife Park enough. The activities offered gave us exactly what we were looking for. The staff exceeded our expectations as they were extremely helpful and adapted everything to suit our requirements.

The event delivered everything we were looking for and within budget too. A great day out at very reasonable expense. Thank you - we will be back!

Sally Rogerson

Cofunds Ltd

The whole team had a great day and will definitely come back for future events

Umar Hussain

Disney VoluntEARS