Meeting and conference venues
Discovery Centre
Accommodating 150 people for presentations or 180 for receptions.
This space can be arranged as one room or partitioned in to 3 separate.
Break - out areas
Audio visual equipment: LCD projectors, screens, microphones, wi - fi and flip charts
Full size 65' x 24' / 20m x 8m (or sectioned by sliding doors in to 3 separate rooms)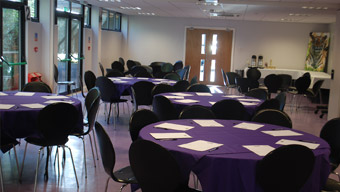 ---
The Boardroom
Plasma screen
for meetings of up to 12 people
Reception area and outside executive decking for up to 20 guests
Boardroom size 17' x 9' / 5.5m x 3m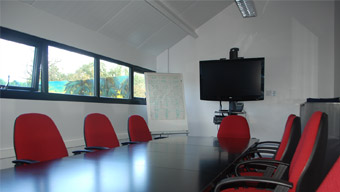 ---
Private Marquee
Accommodating up to 180 for dinner, 300 for a buffet and 400 theatre style
Audio visual aids and moveable stage
Events area with terrace, astro - turfed lawn and parking
Bar with music and dance licenses
The Secret Garden with pergola, stream and bridge to add a magical touch
Private Marquee 88' x 36' / 26m x 12m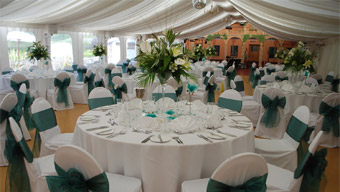 ---
The Safari Suite
Up to 100 people for sit down dinner and dance or 250 people for a disco and buffet
Audio visual aids, built in stage and DJ booth
Covered decking / reception area
Bar with music and dance licenses
The Safari Suite 65' x 32' / 26m x 10m

---
Tiger Tree Tops
For groups of up to 35
Magnificent panoramic views of our Tigers
Rustic viewing gallery and meeting space
Audio visual aids
Tiger Tree Tops 33' x 15' / 10m x 4.5m

---
---
PARADISE WILDLIFE PARK'S TERMS AND CONDITIONS OF VENUE HIRE
Provisional bookings can be held for a period of 7 days.
A 50% non-refundable deposit is required to secure a booking (based on expected total numbers).
Payment balance, along with final numbers & guest list is required 4 weeks prior to the event
Any reduction in numbers notified up to 2 weeks prior to the event will receive a 25% refund
No refunds will be made on late cancellations
No event can commence without full payment having been received
A holding bond of £500.00 may be required in the unlikely event of damages/theft/breakages caused by hirer or attendees‐ this will be returned at the end of the hire period if all is satisfactory
Upon receipt of deposit it is a declaration that the hirer agrees to our venue hire terms & conditions
The function/event must not be advertised in any way to attract general public to attend and the only people entitled to attend shall be hirer and their chosen friends/delegates.
We reserve the right to cancel any booking or terminate any hire agreement where there is reasonable grounds to believe the event may result in disturbance or disorder, breach of our Ts&Cs, or any criminal offence which may or has occurred. Management reserve the right to refuse entry or omit persons
ALL Wines, beers, spirits and soft drinks consumed at the function must be purchased through Paradise Wildlife Park (exceptions must be agreed in advance)
Corkage fees will be charged to the host if this condition is breeched and will be deducted from the holding bond. (Beverages can only be consumed on the site of Paradise Wildlife Park's venue and not on the animal park, neighbouring land or roadways)
The bar will close a short period prior to the end of your agreed booking (or as agreed)
External suppliers/contractors/providers must agree to adhere to the conditions of Paradise Wildlife Park's venue hire and the Management must be made fully aware of their details and intentions in advance of your booking
All live entertainers / musicians / caterers / suppliers may have access for set-up 1 hour prior to the guests' arrival and must vacate the venue no more than 1 hour after the allocated hire period. Additional time can be arranged at a surcharge
Equipment usage must be agreed & paid for in advance and breakages/damages will be charged at the full replacement cost
External Caterers/suppliers must have written consent from Paradise Wildlife Park's event Management to operate/provide their services subject to satisfactory proof of their adequate insurance documents & H&S compliance, as well as copies of their electrical testing certificate (P.A.T). A sample of the foods may be required in advance. A hire charge for catering facilities will be applied
No gas or burners can be brought onto the premises, except in exceptional circumstances which must be agreed in advance. We have the right to refuse Caterers/Suppliers at any time & cannot accept responsibility for loss of deposits/monies paid.
Caterers/Suppliers must take full responsibility of their rubbish/waste and leave their designated area as they found it or the holding bond will be withheld.
Unless agreed in advance with the management Hirers must ensure all rubbish is taken away with them or their suppliers at the end of their hire period‐ this includes decorations/helium balloons etc.
Photos/Video: PWP may take photographs /video of events to share with visitors and, occasionally for use in promotional literature. Unless notified otherwise we will assume permission to use this material. Otherwise, names of those unable to participate must be notified in advance to ensure they are excluded.
If an Entertainer (artist, band etc.) is to appear during the function they are required to submit a copy of an adequate proof of public liability insurance & current PAT certificates
If amplified music is to be played at the function the hirer must inform the Management at the time of booking and all doors must remain closed as part of our licensing conditions after 10pm
No Dramatic or musical works can be performed at Paradise Wildlife Park's venue without the licence of the owner of the copyright and such licence shall be produced to the Management before the commencement of hire
The Hirer/guests should not affix nails, pins or tape etc. to any part of the walls, doors or floors or in close proximity of electrical items or heat sources nor Placards/banners or any other decoration placed outside of Paradise Wildlife Park's venue without consent in advance from the management
The management has the final say to refuse/remove decorative items that may be inappropriate/offensive or in any way breech health & safety
All decorations and material should be removed carefully at the end of the hire period or subject to prior arrangement & consent it may be possible to collect within a stipulated timeframe thereafter. We cannot accept responsibility for the safekeeping of any item left during or after an event & if the agreed timeframe is lapsed we reserve the right to dispose of any items/materials
Guests of the hirer must leave the premises in a quiet and orderly manner to avoid creating any annoyance or disturbance to our neighbours & local residents
It is important that whilst hiring the premises the Hirer is aware of the location of all Fire exits and relevant fire extinguishers.
In the event of the fire alarm being activated please vacate the "PWP venue" immediately, leaving all possessions behind until you are certain the management advises it is safe to return.