Volunteer at Zoological Society of Hertfordshire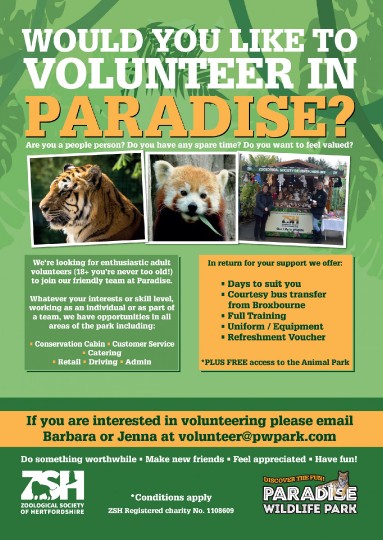 Calling all animal lovers who are looking to gain some charity work experience! Why not come and volunteer at our Hertfordshire zoo, based just outside of North London? Whether you're looking to come and help us out with our park visitors or want to give our zookeepers a hand, we guarantee that we can find you the perfect volunteering opportunity to help you gain that all important charity work experience.
What are the benefits of volunteering at ZSH?
You get a food voucher for lunch.
All necessary training will be given.
We have a free bus service taking you to and from Broxbourne Train Station.
You will also get a volunteer uniform.
If you are interested in one of our volunteer positions, please email Barbara and Jenna on volunteer@pwpark.com for more information/an application form.
Our current volunteer roles are:
Dino-Guide - In Easter 2018 we will be opening our 'World of Dinosaurs' attraction and are looking for volunteers to take roles as 'Dino-Guides'. Please contact volunteer@pwpark.com for more information and interview dates.
Information Gazebo - We are looking for zoo volunteers to man our busy gazebo during the summer period. Supplying information about animal experiences, annual membership, kids' parties and other activities we provide here at Paradise Wildlife Park. We would like outgoing people with good communication skills and happy personalities, able to be in a loud and busy environment and can use their own initiative in any given situation.
Conservation cabin – Our conservation cabin is situated in the middle of the park, opposite the Red Pandas and next to the Big Cats. It is staffed exclusively by volunteers, with all profits going to support conservation projects ranging from endangered species and habitats to native British Wildlife.
The role involves:
A full range of retail activities, including arranging displays, serving customers, pricing and restocking, and cash management.
Engaging with customers to explain our fundraising purpose, conservation objectives and achievements to date.
Acting as an information point for visitors needing directions or assistance.
Helping to ensure all visitors have a most enjoyable day.
Optionally, Conservation Team Volunteers have the opportunity to attend and assist at a range of special events organised throughout the year to raise awareness of, and funds for, specific conservation projects.
All Conservation Team Volunteers are welcome to attend the monthly team meetings and contribute to the running of the group.
We are looking for friendly and outgoing people who are interested in wildlife conservation and who are equally happy to work individually and as part of a team. Good communication skills are necessary for this role, as is a calm and efficient manner. You should enjoy engaging with and helping people, have good interpersonal skills, and be confident and accurate in handling money.
General Park Duties volunteers – Our General Park Duties volunteers are vital to the smooth running of the zoo. Without their help, we would be unable to provide the high standard of service that we aim to achieve and ensuring our visitors have an enjoyable day out at the zoo.
The role includes:
Safe and correct operation on all rides, slides, bouncy castles, etc within PWP - In accordance with directions given by the manager/supervisor.
Car park and zebra crossing duties
Maintaining the cleanliness of the PWP site including litter collecting and sweeping of pathways
Feed stall: selling feed bags to visitors, safe and correct handling of machinery and money
Operation of the tractor/Trailer ride as required
Setting up areas for functions and events
We are looking for reliable and hard-working volunteers who have excellent customer service experience as there will be a need to engage and interact with visitors in a polite and professional manner. You will need to be able to stand for long spells at a time and be happy to work both independently and as part of a team.
Catering – Come and help us in our busy Safari Sam's restaurant and food kiosks. Volunteers are included in all aspects of catering to ensure that a high standard of service is delivered to our visitors for the most enjoyable experience at our zoo.
Roles our catering volunteers will take part in are:
Clearing and washing tables and floors in our restaurant and by our food kiosks
Delivering food to tables
Helping to ensure the kitchen is fully stocked
Washing and cleaning of floors, crockery, utensils, work surfaces and other kitchen equipment to ensure the necessary health and hygiene safety standards are maintained in the kitchen and dining areas.
Other duties as required to support effective running of our zoo.
Our catering volunteers need to be reliable and hardworking, able to work as part of a team as well as individually and able to be on their feet for long periods at a time in a busy restaurant environment.
Animal Park volunteers - It's time to get your hands dirty and find out for yourself how much work our zookeepers do around the zoo. Designed to offer the experience of working as a zookeeper in Europe's leading animal experiences zoo. We accept volunteers over the age of 18 to assist us in our Animal Park. We are looking for dedicated, long-term volunteers who are keen to learn new information and skills.
The role involves:
General animal husbandry: Cleaning enclosures (with and without animals in them), giving fresh water, changing beds, disinfecting enclosures and objects in them, preparing feeds and sometimes assisting with feeding and enrichment, helping with fruit and vegetable deliveries.
General maintenance of enclosures: Weeding, washing windows and railings, raking etc.
General site maintenance: Litter picking, sweeping paths, painting, emptying and washing bins and cleaning and tidying staff areas (feed room, hay and straw barn etc.)
You may sometimes be asked to help with manning walk-through exhibits, keeper talks and shows.
If you'd like exclusive access to more hands-on opportunities with our impressive range of animals then one of our animal experiences might be of interest to you. For the ultimate zoo keeper experience, our shadow a zookeeper experience gives you the perfect chance to become a member of our animal team for the day at our Hertfordshire zoo.