Key Stage 2 & 3
Ages 7-11yrs Group Limit: 30
We have five fun and exciting classroom based topics for you to choose from. Each is designed to cover key stage 2 & 3 in the National Curriculum and lasts approximately half an hour. Each student will be given activity work sheets.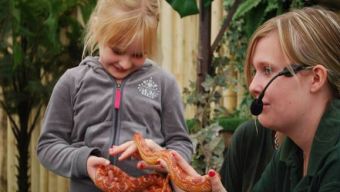 Circle of Life: This presentation explores life cycles within the animal kingdom; looking at the various stages of developement in amphibians, reptiles, insects, birds and mammals.
Conservation in Paradise: Learn about conservation issues such as habitat loss and poaching, whilst looking at real artefacts (courtesy of HM Customs), including animal skins and ivory. Children will learn about how they can help towards conservation efforts, and the role of a modern zoo
Mini Beasts: This is an interactive classroom based discovery session, where you will be introduced to a range of invertebrates. Children will be split into groups and each group given a mini-beast to study using magnifying glasses!
Rainforest: Discover some amazing animals that live in rainforests around the world, and how thay have adapted in order to survive there. You can then look for them around the zoo! Children will also learn about rainforest destruction and how we can help.
Nocturnal Animals: Learn about which animals are nocturnal and why. We will discuss the amazing senses and other adaptations which help animals find food and stay safe in the dark.