Educational Packages & School Trips To The Zoo

Here at Paradise Wildlife Park we take our commitment to education and conservation very seriously; it's an important part of our vision and mission statements.
We have revitalised our Education Programme giving our visitors a wider choice and exciting new packages. Our new fully equipped education building is called the Discovery Centre and this is where we now offer our activity based education sessions.
We are proud to be reccomened as a quality educational attraction with honors received from Leaning Outisde the Classroom & being part of the Childrens University iniative.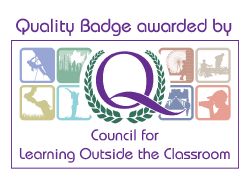 ---
School Trips at Paradise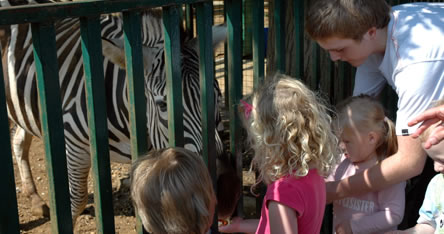 Bring your students along to our Hertfordshire zoo to experience our hands-on approach to learning for a fun focused education and conservation visit.
We offer interesting and informative presentations to suit the age and ability of your children; with sessions that have been designed to complement topics in the National Curriculum and make learning interactive.
Alternatively you may prefer just to come and enjoy our excellent facilities, attractions, shows and wonderful animals.
School groups are priced at £9.50 per adult and £9.50 per child for groups of 20 or more people. You receive 1 FREE adult with every 6 paying children. Payment is made on the day of your visit. Please note we do not invoice for groups.

Talk times are allocated on arrival and all talks are £25 per group of 30 in addition to your admission price. Browse the Reception and Foundation, Key Stage 1, Key Stage 2, Key Stage 3, Key Stage 4 & Key Stage 5 pages or call us on 01992 470 490 for further details.
---
Voluntary and Charitable Organisations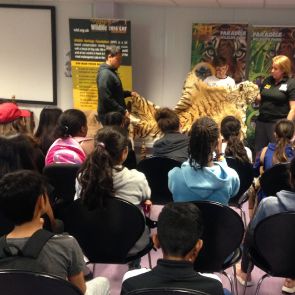 We welcome visitors from voluntary and charitable groups.
Talks and presentations for Beavers, Cubs, Brownies and much much more...
Choose from any of the topics from our Key Stage 1 - 4 talks! Each talk can be tailored towards helping to attain badges in animal care and conservation.
---
Booking a School Trip to the Zoo!
Booking is easy - we are open everyday except Christmas Day so just call us on 01992 470490 or email info@pwpark.com with your requirements and we will be happy to help your arrange an educational trip. Once booked teachers are encouraged to visit the Park prior to the day to carry out their own risk assessment. We allow one FREE visit per school for a maximum of 2 teachers. All other teachers will be charged the normal daily entry price.